Is it the kind of gamble Aston Villa should really contemplate?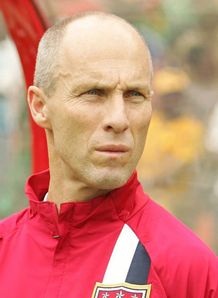 Current USA national team boss Bob Bradley has recently expressed his interest in taking over the reins at Aston Villa following the shock resignation of Martin O'Neill. Bradley has impressed in his role with the US national team, leading the Americans to a Confederations Cup final against Brazil in 2009 and a 1st place finish in Group C in this summer's World Cup in South Africa. Bradley's contract with the US Soccer Federation is set to expire at the end of the year and the American is looking to Villa as the next step in his managerial career. If Aston Villa chairman Randy Lerner did choose to hire his compatriot, it could be a major gamble for the club and here's why.
Bradley does not have enough pedigree as a club manager for me to be certain that he would be a success at Villa Park. He started out coaching at the collegiate level in the US with Ohio University when he was a postgraduate student. He was then hired by his US national team predecessor Bruce Arena to be his assistant at The University of Virginia before taking the top job at his alma mater Princeton. The success he had in college ranks caused Bradley to move into coaching in the newly formed MLS. He became assistant to Arena once again at DC United in 1996, moving on after two seasons to manage Chicago Fire. Bradley had stints with two more MLS franchises (the MetroStars and Chivas USA) prior to taking over the national team job in 2006.
While many of his USA team play regularly in Europe, I question whether Bradley himself has an adequate familiarity and knowledge of the European game. Often national team managers send scouts on their behalf to watch players play overseas who then relay their findings back to the head coach. Bradley would then have little first-hand experience of watching his players up close, relying on the trust of his assistants to select the best players. As a result of this, I wonder what Bradley's scouting network is like?
Aston Villa are a team who  harbour ambitions of bringing some of the best players in the world to play at Villa Park. But a manager who has spent the best part of 4 years focusing intently on improving the national team would not easily be able to identify potential transfer targets in club football, nor would he have built up sufficient contacts in the club game to attract the best talent to want to play for him.
Bradley would also have to make the adjustment from the infrequency of international football to the day-to-day operations of club football and he would need to do so incredibly fast as he would be joining the most high-profile league in the world where his every move will be scrutinised intently.
The performances of the US national team have proved that Bradley is a good coach. I just don't know whether he is ready to make the step up to managing in the Premier League.
Follow me on Twitter or subscribe to my RSS feed.