Portsmouth take Avram Grant to their heart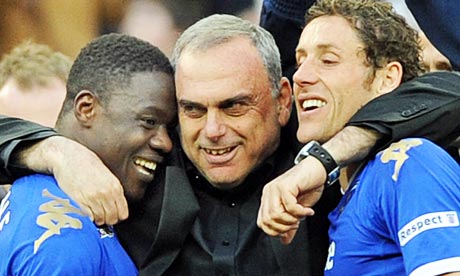 Portsmouth had been sinking inexorably towards the Championship long before West Ham picked up the three points against Sunderland on Saturday that relegated the south-coast club. To be demoted from the Premier League without kicking a ball summed up Portsmouth's season. The club's well-publicised off-field financial problems all but scuppered their chances of survival before the season even began. How satisfying, then, for Portsmouth to have booked a return to Wembley on 15thMay, following Sunday's FA Cup semi-final victory over Tottenham Hotspur, with a performance that owed everything to the endeavour of the players on the pitch and the coaching staff on the touchline. For Portsmouth's manager, Avram Grant, the club's date at Wembley next month means a chance to possibly deny his former club, Chelsea, the league and cup double.
Frédéric Piquionne and Kevin-Prince Boateng scored the extra-time goals that secured Portsmouth their improbable 2-0 victory. Both players joined the club last August, during a frenetic period of transfer activity in which Portsmouth augmented their squad with the players necessary to allow them to simply field a team at the start of the season. Internationals such as Peter Crouch and Glen Johnson were sold last summer in order to service Portsmouth's debts but, without extra investment being forthcoming at the time from any of the club's various prospective new owners, replacements had to be found hastily and relatively inexpensively. Despite the patchwork nature of their squad this season, though, Portsmouth's efforts on the pitch have been far more accomplished than many could have predicted. To be relegated with five games left to play, with nine points already having been deducted for entering administration, counts as noble failure.
The man who deserves the most credit for on-pitch events at Portsmouth – for maintaining the Fratton Park club's Premier League status for so long, and for ensuring that their season will remain meaningful until the third Saturday in May – is the club's manager, Avram Grant. Since returning to the club in November of last year, following a previous twelve-month spell as technical director during Harry Redknapp's second period as manager, the Israeli, who took Chelsea to a Champions League final in 2008 and received precious little thanks for it from that club's fans, has seen his efforts far more appreciated on the south coast than they ever were in west London. As well as orchestrating Portsmouth's determined performances on the pitch under very difficult circumstances, his impassioned interviews throughout the season have also helped to endear him to Portsmouth's supporters. His words after the defeat of Birmingham in their FA Cup quarter-final almost read as a line from a particular film about a Scottish patriot, as played by Mel Gibson. With Portsmouth facing a winding-up order at the time, Grant said: "You can break many things but you cannot break our spirit."
Grant might have been cast as a dour figure at Chelsea, but then he was being compared to his truculent yet charismatic predecessor, José Mourinho. The Israeli's demeanour has warmed markedly since his days with Chelsea, perhaps because his players at Portsmouth feel that much more affection for him than was forthcoming from inside the dressing room at Stamford Bridge. Even if Chelsea had triumphed in Moscow two years ago, it is unlikely that John Terry and Didier Drogba would have embraced Grant quite as warmly as Michael Brown and Aruna Dindane did following the final whistle at Wembley on Sunday. In navigating through the choppiest waters of Portsmouth's history, Grant has bonded forever with the club's fans and, most remarkably of all, a group of players who will not, in the most part, be playing for the club next season.