Roberto Martinez: Proof that loyalty in football does exist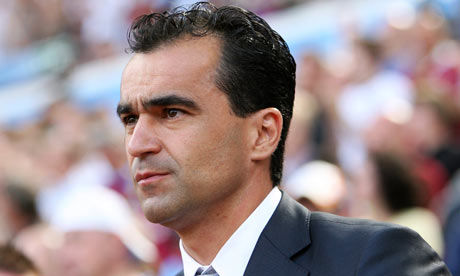 Over the last six months, the Premiership has witnessed several stories involving players and managers being tempted into walking out on their club, leaving their team-mates high and dry and moving on to bigger and better things. Andy Carroll left his home town club to play for Liverpool, Cesc Fabregas and Samir Nasri both seem to want to leave Arsenal to play for a more successful club, and just last week, Mark Hughes inexplicably walked out on Fulham in order to pursue his dream of managing a top 4 side. With all this greed and ambition, it's nice to finally see somebody not falling in to that category.
Wigan manager Roberto Martinez has decided to turn down the offer of becoming the new manager of Aston Villa and continue managing the club with which he has spent the majority of his footballing career. Having played for the Latics for over 6 years, making 188 appearances and then managing them since June 2009, the Spaniard has developed a very strong relationship with Chairman Dave Whelan, a great rapport with the supporters and his love for the club is very apparent. Signing a new three-year contract proves just how dedicated Martinez is to helping Wigan cement their place in the Premiership for years to come.
His decision to remain as manager will come as a shock to many. There are very few managers out there who would not be tempted to take charge at Aston Villa. Despite the below-par season they have just had, they are still a big club with a rich heritage and a rich owner. With no disrespect to Wigan, they are not a bigger club than Aston Villa. They have a smaller fan base, a smaller stadium and a smaller budget. Most managers in Martinez's situation would have jumped at the chance to manage a club like Aston Villa, so it's a huge breath of fresh air to see somebody who isn't swayed by money or greed and stick by the club that has given so much to him.
Given Martinez's track record as manager, it's not surprising to see other clubs taking an interest in him. He turned Swansea City from an average League 1 side into a huge force in the Championship. Few people would disagree that Swansea would not have won promotion to the Premiership had it not been for the foundations laid by Martinez during his time as manager. His experience as manager of Wigan, however, has been very different. He has endured a tough time keeping Wigan in the Premiership for two successive seasons, overseeing some dreadful performances and some very heavy defeats. But the club have stuck by him and he is currently the 8th longest serving manager in the league. His side have ground out the results when it mattered most and his heroics in keeping Wigan up last season, when they seemed dead and buried, will never be forgotten by everyone associated with the club. It was this achievement that has no doubt prompted an approach by Aston Villa and it is the least that Martinez deserves.

But having helped Wigan avoid the drop, Martinez will no doubt believe that he has some unfinished business with the club. His main job over the summer will be to hold on to his best players, such as Charles N'Zogbia and James McCarthy, as he attempts to develop his team from relegation favourites into, the very least, a mid-table club. As this will also be the expectations of the chairman and the supporters, Martinez has a lot of work to do and he will be under a lot of pressure to do it.
But had he taken over at Aston Villa, that pressure would have been considerably higher. The idea of transforming a club like Aston Villa, one of the biggest under-achievers of last season, into a team who should be pushing for Europe would surely be too much to handle. Even though he has achieved a great deal already as a manager, it's hard to believe that he would be ready for such a momentous task.
Aston Villa should not be too disgruntled that Martinez has turned them down. They will soon find a manager suitable enough to help them out of their slump. And Martinez will not be at Wigan Athletic forever. He is a manager who is destined to take charge of a big club one day. But just for now, let us take comfort in seeing a manager who is influenced by his heart and not his head.
Read more of Sam's articles at http://diamondformation.wordpress.com/. Also follow him on Twitter: @DiamondFormat.