A necessary evil to Newcastle United?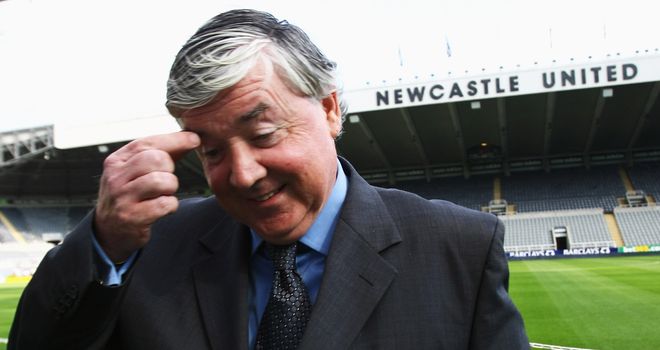 If you currently had to pick one thing that all Newcastle United supporters currently agreed on, it would be that Joe Kinnear should be nowhere near their football club. When the club scraped their way to Premier League survival in May, another thing all those involved with the Magpies unanimously agreed that spending and strengthening the squad was essential.
We now roll on to five months down the line and with barely a penny spent and even that only being on a loan fee for a striker that several of the Premier League elite turned their noses up at, yet someone the ship has not sunk.
To add insult to injury arguably one of the worst imports ever into Newcastle, Joe Kinnear returned as Director of Football. Those supporting black and white could have been forgiven back then for thinking that they were due to wake up from a dream. Mike Ashley at best is currently viewed as a wind up merchant with his move to bring in much loathed Kinnear, but is there some method to this madness?
It would be bold to credit the Sports Direct Owner for bringing in the clueless Kinnear but there is a warped thought process behind the actions. Most Newcastle fans have dismissed the actions as the owner as simply loving money, and whilst this may be true, there is more to this than meets the eye.
Newcastle United are a streamlined unit, there is an efficient scouting network, full international players with a hunger to succeed and in amongst it all there is sprinklings of quality in the form of Hatem Ben Arfa and Loic Remy.
There may have been a frustration at the squad clearly not being thick enough but would they have rathered having 12 or 13 new recruits just like they have down the road at Sunderland. Certainly not.
The problem for Ashley lies in that he is aware that a few more tweaks could propel Newcastle to a really superb position but would you trust Alan Pardew to take Newcastle United to the next level? I am not sure Ashley does. Would many Newcastle fans trust Pardew to deliver after the style of play he delivered last season? Again you wouldn't count on the former West Ham and Charlton boss receiving unwavering support to spend say a £20 million war chest should it become available in January. He has already done that and Ashley wants to see some impact rather than throwing money at the problem.
Does this mean Ashley should sack Pardew due to his lack of confidence and willingness to back his man? probably, but this is where Joe Kinnear steps in. He plays the role of devil's advocate.
Kinnear is there to unsettle Pardew and if he is to reignite Newcastle United like he did in his first full campaign in charge he needs to hunger and desire once more then the risk of his presence could yet yield great reward. Newcastle united thrived in the 2011/2012 season with their backs to the wall attitude and those around the club insisting they were short, which really brought the best out of their playing staff. Yohan Cabaye is a shining example of coming out fighting in the face of adversity with a stellar performance against Aston Villa.
The plan is probably to let Pardew prove himself till January before he has any bargaining power to be given the keys to the treasure to bring in reinforcements once more. If he passes this test Ashley may finally trust Pardew to make a move once more.
Also the idea of bringing in Kinnear means that it is easier for Pardew to be ousted by any potential new owners if he fails, yet can help him establish his authority as manager if he stays. Ashley has never shied away from his keenness to sell Newcastle United should the opportunity come along and the current set up leaves a blank canvas for a new owner to make their own stamp on this famous football club. In the meantime, Ashley will run the club in the way he sees fit, as a business.
A lot has been made in the media and press of Ashley's refusal to speak and explain a whole host of bizarre decisions he has made in his tenure at Newcastle, but isn't a media circus around the owner something the supporters always wanted to avoid? so a secretive professional approach should be welcomed. Some may disagree and say Kinnear gave everything away whenever he spoke be could well be the smokescreen for the real business that is being carried out on Tyneside.
A long standing issue has been that the supporters have been emotionally attached to their club to the extent that it can add an element of fear into the way the players perform. When Newcastle were struggling to the finish line at the end of last season there was a toxic feel to St James's Park. Now though they have a new figure to detest in Kinnear this can take the heat off the playing staff this must be of benefit to the club.
If Kinnear can take the flack for any misgivings and controversy surrounding Newcastle and allow Pardew to have his position strengthened as the manager surely Kinnear is a necessary evil after all.