The FIVE emotional stages of Transfer Deadline Day
Today is the day when youths around the country mob reporters stood in front of cameras, grave silver-haired robots dominate our TV screens and our motorways, airspaces and service stations are overrun with dead-eyed, slack-jawed men in tasteless suits.
No, today is not the end of the world. Today is TRANSPOCALYPSE, or as Sky Sports News prefers, Transfer Deadline Day.
And with that comes a certain expectation for the British public. We still stockpile tinned goods and barricade ourselves into our rooms, but instead of the fear of a meteor shower or zombie outbreak, it's the dread attached to the idea of our team NOT signing anyone in these precious last 24 hours of the transfer window.
After all, said window always SLAMS shut. This isn't Indiana Jones and the Temple of Doom, there's no time to quickly grab your hat (in this case, a loan deal for Nicky Shorey.) And so football fans are left to sweat over their team's performance not on the pitch, but on the phone, as we take everything we read on Twitter for gospel and long for the return of our Lord and Saviour… Jim White.
So with all this in mind, here are five states you'll be going through in the next 24 hours – an emotional bingo if you will – see how many you can tick off by midnight tonight.
Hope
How every good Deadline Day should start and a feeling like no other, especially if you are vindicated when your team dips into their pockets and actually buys someone.
Arsenal fans were once the most hopeless band of graphic designers in English football, but after signing blowfish impersonator Mesut Ozil they now believe rainbows come out of Arsene Wenger's arse. Don't expect to feel this for very long mind you.
Denial
Once your short-lived hope has been crushed by some 13-year-old with an ITK Twitter account, you can look forward to a whole lot of denial.
'Surely we can't go the whole day without signing anyone?' You'll plead to no one in particular because you're probably alone in your bedroom. 'Maybe the gaffer is working on a top secret deal as we speak!' You'll exclaim as you crack open that next can of Stella. 'I bet we'll sign two players by Midnight!' You'll sob into your third bowl of cereal.
Anger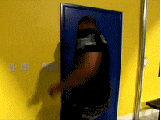 Fairly self-explanatory this one.
Disappointment
Everyone knows from their childhood that disappointment is worse than anger. At least with anger you have something to rally against. Disappointment is that look your mum used to give you before she said 'stop showing off' in front of your mates.
Disappointment is signing a 16-year-old French player only to loan them back to Brest. Haha, Brest.
Acceptance
Oh well, there's always the summer.